Faulty Washer Drive Pulley
After Time Your Washer's Pulley Could Be Loose, Bent Or Just Worn Out. Remove The Drive Pulley
 Carefully And Inspect. If Damaged, Replace With Proper Drive Pulley. It Also Might Be A Good Time 
To Check Your Pulley Components For The Same Defects. Faulty Drive Pulley Also Could Cause 
Your Washer Water Pump To Completely Stop Draining . If That's Not The Case Check Your Water 
Pump.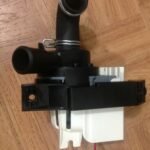 Check The Washer's Water Pump Screws. Make Sure They Are Not Loose.
 First, Start By Removing The Water Pump And Checking That Nothing Is Stuck, 
Or Preventing The Pump From Working Properly. Sometimes Foreign Objects 
Can Be Stuck In A Water Pump Or Even Washer Hoses.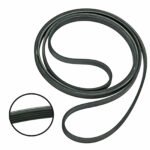 If You Hear A Squealing Noise Coming From Your Washer, Most likely You Have A Bad Washer Belt. Daily Washing Can Cause The Belt To Wear Or Crack. A Worn Belt Can Make Noise During The Spin & Draining Cycles. If, After Inspecting Belt, no Sign Of Wear Is Found, Check To See If The Belt Is Set To The Proper Tension Recommended By The Manufacturer. Eventually, Your Washer Will Stop Spinning Or Agitating If Dealing With A Bad Washer Belt. 
If Your Washer Bearings Are Squeaking You Might Want Check If Bearings Have Proper 
Lubrication With Mechanical Grease. If They Are Lubricated And You Hear A Grinding Noise
 Coming From Bearing Replace Immediately. Since It Could Cause Other Components To Fail.
 If Bearings Do Not Get Replaced It Will Get Louder. Heavy Loads & Detergents Could Be The
 Reason For Bad Bearings.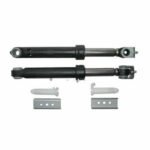 Shock  Absorbers Prevent Shaking During Cycles. Most Front Load Washer Have Four Shock
 Absorbers. First, Remove Each Shock. If You Can Grab Each End And Pull The Metal Portion
 Out Of Its Housing, Replace The Shock. Check Each Shock Absorber And Make Sure These 
Are Positioned Correctly. Also Inspect Them For Damage Or Wear.
*Always Make Sure Washer Is Unplugged Before Inspecting Any Appliance Components.