Expert Whirlpool Dryer Repair in San Diego
You depend significantly on your Whirlpool dryer to maintain the cleanliness and freshness of your clothing because you are a homeowner. But what should you do if your dryer stops operating all of a sudden? Having to deal with it on your own can be a trying and aggravating experience, particularly if you lack the knowledge and/or abilities necessary to fix it on your own.
This is where Bonita Appliance Repair can be of use. In San Diego, our team of highly trained repair specialists is available to provide services that are both dependable and effective in repairing Whirlpool dryers. We are able to swiftly detect the problem and provide a solution, regardless of whether your dryer is producing unusual noises, is not heating up, or simply won't switch on. Our knowledge and ability allow us to do this.
The Most Frequent Issues with Whirlpool Dryers
Whirlpool dryers have a reputation for being long-lasting and dependable, but even the most well-made home equipment can develop issues with time. The following is a list of issues that may be experienced by users of Whirlpool dryers:
If your dryer isn't producing any heat, the problem could be caused by a blown thermal fuse, a broken heating element, or an incorrectly calibrated thermostat.
Strange noises coming from the dryer: If you have a dryer that is generating peculiar noises, such as squeaking, grinding, or thumping sounds, it may be because the drum roller or belt are worn out.
Dryer won't turn on: If your dryer won't turn on, the problem could be caused by a defective door switch, thermal fuse, or start switch.
If your dryer is running but your clothes are still wet, the problem could be caused by a clogged lint filter, a blocked vent, or a broken thermostat.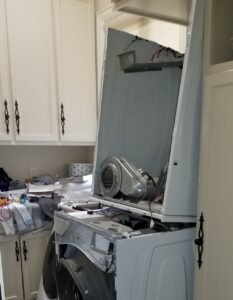 We, at Bonita Appliance Repair, are well aware of the significance of a well-functioning dryer in the domestic setting. For this reason, we provide homes in the San Diego area with extensive Whirlpool dryer repair services. Our staff of highly trained specialists has the ability to diagnose and cure a broad variety of issues with Whirlpool dryers, including the following problems:
Incorrectly functioning thermostats, heating elements, and thermal fuses.
Drum rollers and belts that are worn
The door switches, thermal fuses, and start switches were all faulty.
Lint filters and vents that are clogged with debris.
thermostats that are not functioning properly.

In order to ensure that your Whirlpool dryer is returned to its previous state of peak performance, we only make use of high-quality replacement components and the most modern tools and equipment. You can be sure that you are getting the most bang for your buck thanks to our up-front pricing and satisfaction guarantee, which both provide you peace of mind. Make sure to maintain your dryer always.
Conclusion
In the event that your Whirlpool dryer is malfunctioning, do not be reluctant to get in touch with Bonita Appliance Repair in San Diego for professional Whirlpool dryer repair services. To assist you in getting your dryer back up and running as quickly as possible, our team of knowledgeable repair specialists is committed to offering dryer repair services that are both trustworthy and prompt. You may have faith in us to give the results you require to keep things operating smoothly in your home because of our many years of experience and dedication to quality.